Host
Ralph Pagano
Broadcast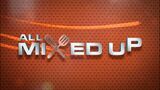 Lifetime: 9/7/2012-present
All Mixed Up is a half hour reality cooking competition show that combines the perfect mix of ingredients for food competition, food history and exciting culinary adventure.
Three up and coming chefs compete before a panel of judges by taking simple ingredients and America's favorite brands and turning them into three unique, three course meals.
All must complete an appetizer, entrée and dessert.
In addition, each episode will discover original recipes and food history that will motivate the cooking novice who can't boil water...and the season "foodie" who can't get enough about food.
Official Website
Official show's site
Official Facebook page
Ad blocker interference detected!
Wikia is a free-to-use site that makes money from advertising. We have a modified experience for viewers using ad blockers

Wikia is not accessible if you've made further modifications. Remove the custom ad blocker rule(s) and the page will load as expected.