Host
Ted Allen
Mentors
Alex Guarnaschelli
Bobby Flay
Curtis Stone
Michael Symon
Broadcast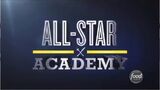 Food Network: 3/1/2015-present
Packager
Relativity Television
All-Star Academy is a reality show in which ten home cooks from across the country are paired up with some of Food Network's biggest names in a new culinary competition with the chance to win a $50,000 grand prize.
Ten talented and successful home cooks from across the country compete in intense culinary challenges as they are mentored by some of Food Network's most popular chefs, while competing for $50,000 grand prize. Each competitor, with the guidance of their mentor, must compete over eight episodes in challenges that would propose difficulties for even professional chefs, while elevating their culinary skills to make it to the finish line. With the support of superstar chefs: Alex Guarnaschelli, Bobby Flay, Curtis Stone and Michael Symon. Each home cook not only has to impress their world-class chef mentor but the special guest judges as well, who help determine who will make the cut in the dreaded elimination round. One by One, the challengers are eliminated, leaving one contender standing with a $50,000 grand prize.
Special Guest Judges
Edit
Donatella Arpaia
Elizabeth Falkner
Amanda Freitag
Robert Irvine
Chef John Li
Simon Majumdar
Geoffrey Zakarian
Ad blocker interference detected!
Wikia is a free-to-use site that makes money from advertising. We have a modified experience for viewers using ad blockers

Wikia is not accessible if you've made further modifications. Remove the custom ad blocker rule(s) and the page will load as expected.