Hosts/Judges
Brian Roe
Brook Drumm
Marc Portney
Broadcast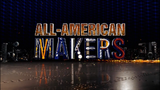 Science Channel: 1/21/2015-present
Packager
Bray Entertainment
All-American Makers is a reality-competition series where from all across the U.S. builders, engineers, carpenters and more are among the many makers who are using their hands, their wits and their know-how to invert amazing products to expand our everyday experiences.
Every week four top makers from around the nation pitch their products to a panel of three experts. who decide whether the product is worthy of an investment. Each maker's product is put through a series of rigorous tests by Drumm and Roe to find out how it works and if it lives up to its claim. Should the product make the grade, it's then subjected to the scrutiny of real consumer focus groups. Based on the Facebook of Drumm and Roe plus the focus groups, Portney decides if he wants to invest his own money in the maker's business and help bring the product to store shelves. Each one-hour episode, features four products, including: motorized roller skates, users can strap to their shoes; a water filler that works like a French press; a 360-degree infrared surveillance device; a gun that lets people shoot files with table salt; a bike that can ride on water; robots with programmable personalities; a device claiming to improve the speed of boxers; a product that gives its user a healthy amount of sun without getting burned; a brain-controlled toy helicopter; a non-toxic, liquid stain repellant; a fetch toy that dogs can control by themselves; an airbag vest for motorcycles; a remote-controlled lawnmower; a revolutionary digital guitar; an indestructible flashlight that can power your electronics; a bike helmet that record brainwaves while you ride; a shirt that claims to change colors as muscles heat up; a non-glue that dries at your command; a robot that clears disaster areas for firsts responders; a product that hopes to revolutionize prosthetic; a vehicle that allows cyclist to reach highway speeds; a robot that automatically helps its owner; an electric fan that promises scorching charcoal in minutes and shoe laces that might be the first-ever indestructible shoelace.
Ad blocker interference detected!
Wikia is a free-to-use site that makes money from advertising. We have a modified experience for viewers using ad blockers

Wikia is not accessible if you've made further modifications. Remove the custom ad blocker rule(s) and the page will load as expected.