Alex Trebek


Name:
Alex Trebek
Born:
July 22, 1940
Birth Hometown:
Sudbury, Ontario
Occupation:
Host, Producer
Years active:
1963-present
Known for:
Hosting America's answer-and-question game show, Jeopardy!
Alex Trebek (born George Alexander Trebek on July 22, 1940, in Sudbury, Ontario, Canada) is the host of the current version of Jeopardy!, in syndication.
On television Alex Trebek has either made guest appearances usually as himself or voiced himself (on The Simpsons episode "Miracle on Evergreen Terrace") or characters modeled after himself, such as Alex Lebek in the Arthur episode "Arthur and the Big Riddle"; in the Rugrats episode "Game Show Didi", he was named Alan Quebec. He even appears as himself in the Nintendo Wii version of Jeopardy!, and Johnny Gilbert joins him, albeit by voice. Alex became a U.S. citizen in the late 1990s.
Personal Life
Edit
He lives in California with his wife, Jean, and their two children, Emily and Matthew.
Shows Hosted
Edit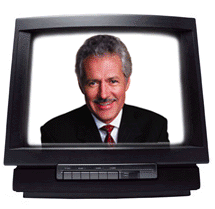 Ad blocker interference detected!
Wikia is a free-to-use site that makes money from advertising. We have a modified experience for viewers using ad blockers

Wikia is not accessible if you've made further modifications. Remove the custom ad blocker rule(s) and the page will load as expected.