Host
Craig J. Jackson
Announcer
Jonathan Mangum
Broadcast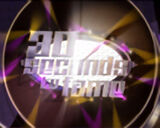 FOX Primetime: 7/17/2002 – 6/26/2003
Packagers
Fox Television Network
Twentieth Century Fox Film Corporation
Wild James Productions
30 Seconds to Fame was a short-lived variety/talent show where acts could only last up to 30 seconds each, regardless of any resolution to the act.
Many different talents were exhibited, such as contortionism, juggling, magic tricks, stand-up comedy, and beatboxing, aside from singing and dancing acts. Much of the charm of the show was derived from the fact that each act lasted only 30 seconds, leading to a variety of different acts being displayed. The live audience acted as the judges. During the performances, if the audience found an act undesirable to watch, the audience used electronic devices to put in a vote for elimination, with an Elimination scale shown on screen, color-coded in green, yellow and red. If enough people did so, and the needle hit any sliver of the red section, that act was to be cut short.
At the end of the show, every member of the audience voted for his or her favorite act, and the top three acts got a chance to do another 30-second performance. After this, a final round of voting occurred, and the winner earned a cash prize of $25,000.
International Versions
Edit
A Brazilian version of the show is called Se vira nos 30 (Turns in 30) hosted by Fausto "Faustao" Silvia aired on Rede Global in 2008.
An Indonesian version of the show is called 30 Detik Menjadi Bintang (30 Seconds So Stars) aired on Global TV in 2005.
The network began to rerun the show on the Saturday late night block in January 2011 in order to fill-in the half-hour after Fringe which was vacated by the cancelled Running Wilde until the launch of the Animation Domination High Definition block in July 2013; the late night timeslot was used for repurpose reruns of recent Fox series after the network temporarily ending original late night programing in September 2010.
Ad blocker interference detected!
Wikia is a free-to-use site that makes money from advertising. We have a modified experience for viewers using ad blockers

Wikia is not accessible if you've made further modifications. Remove the custom ad blocker rule(s) and the page will load as expected.