Host
Scott Conant
Broadcast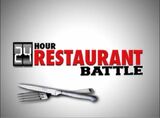 Food Network: 12/18/2009 (Special), 7/18/2010 – 6/23/2011
Packager
CBS Eye Productions
24 Hour Restaurant Battle was a short-lived reality competition series that gives aspiring restaurateurs a chance to open up their dream eateries.
In each episode, two teams of two or three people compete. Each team must turn a blank space into a restaurant in 24 hours. The teams are responsible for a concept, decor, and food. Each team's menu must include at least one appetizer, entrée and desert, but there is no maximum limit for any course as long as it fits within their budget. Both teams get a $4,000 budget for food and decor. Each team also gets painters to color the walls, one sous chef to help assist the cooking and waiters to seat people at tables and deliver food. After 24 hours, the restaurant's doors are open to diners who get to choose the restaurant they would like to attend based on the menu and decor. Four judges eat at both restaurants and Conant determines a winner based on the "concept, execution and viability" of the restaurant, The winning team gets $10,000 to invest into creating their own restaurant.
For episodes starting in September 15, 2010, the teams received $5,000 instead of $4,000 and Geoffrey Zakarian was designated as the head judge.