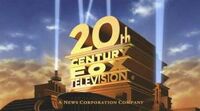 20th Century Fox Television is the TV company established since 1949. The logo plastered the word "Television" over the word "Century" from 1960-1992. When the company returned in 1995, it used the byline of "A News Corporation Company". 20th Century Fox Television didn't use this logo for a lot of game shows; its subsidiary logo "20th Television" did.
20th Century Fox Television started its syndicated division 20th Television in 1989 when they wanted to separate the TV studio from the movie studio to increase the movie studio's output.
20th Century Fox Television headquarters is located in Los Angeles, California.
Ad blocker interference detected!
Wikia is a free-to-use site that makes money from advertising. We have a modified experience for viewers using ad blockers

Wikia is not accessible if you've made further modifications. Remove the custom ad blocker rule(s) and the page will load as expected.