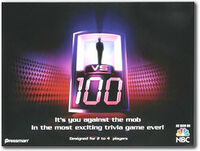 Board Games
Edit
Pressman (2007)
Edit
A board game based on the show was released by Pressman in 2007.
University Games (2007)
Edit
They called their version
Playable Puzzle
for which you assemble first before answering questions.
Card Game
Edit
Cardinal (2006)
Edit
Cardinal released a card game in the same briefcase replica as their Deal or no Deal card game.
Video Games
Edit
DSi Games (2008)
Edit
A game for the Nintendo DS with host Bob Saget on the cover was released.
Microsoft Game Studios (2009-2010)
Edit
A live multiplayer online game was released for the Xbox 360 via Xbox Live Arcade from 2009-2010, the host for it was Chris Cashman while it's hostess in the game was Jen Taylor. (NOTE: There were two versions of the game, referred to as 1 vs. 100 Live and 1 vs. 100 Extended Play.)
Mattel (2007)
Edit
A DVD game was released based on the show featuring host Bob Saget on its cover.
Electronic Games
Edit
Irwin Toys (2007)
Edit
Released a Tabletop and Handheld game based on the show.
Jakks Pacific (2010)
Edit
A Plug N' Play unit was released, based on the show.
Mobile Games
Edit
Gameloft (2007)
Edit
A mobile game was released for cell phones as well as the iPhone and iPod Touch.
Iwin.com (2011)
Edit
Games for the iPhone, iPod Touch and iPad are currently released.
Online Games
Edit
King.com (2006)
Edit
A Skill Game based on the show was released.
Iwin.com (2011)
Edit
An exclusive downloadable game was available from them. prior to this, a Facebook game was also released as well.
Ad blocker interference detected!
Wikia is a free-to-use site that makes money from advertising. We have a modified experience for viewers using ad blockers

Wikia is not accessible if you've made further modifications. Remove the custom ad blocker rule(s) and the page will load as expected.