Hosts (voiceover only)
Mark Henning (1998)
Casey Kasem (1999)
Broadcast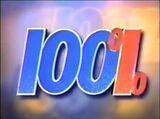 Pilot: 1998
Syndication (Daily): 1/1999 - 9/17/1999
Packager
O.H.P. Productions
Distributor
Pearson Television
100% was a short-lived syndicated game show where three contestants answer a series of multiple-choice questions only by pushing buttons corresponding to the answers.
On the show, it offered $10 per correct answer, with a $99,000 bonus to any of the three contestants who managed a perfect score (for a total of $100,000); However, it was never won during the show's brief run.
List of Airings
Edit
The show aired in only seven markets:
Seattle, Washington
Columbus, Ohio
Dallas, Texas
Houston, Texas
Buffalo, New York
Jacksonville, Florida
Tampa, Florida
However, since the show had a limited run, it did not last a full season.
International Versions
Edit
A French version of the show called 100% Question (100% Issue in English) hosted by Pascal Hernandez aired on France 5 from 1998 until 2004.
An Italian version of the show hosted by Gigio D'Ambrosio aired on LA7 from 2001 until 2002.
The original UK version aired on Channel 5 for four years from 1997 until 2001. In addition, the series also had a few share of spinoffs series such as: 100% Gold from 1998 until 1999, a 1998 pilot called The 100% Guide to Sex and 100% Sex from 1999 until 2001.
The original series was hosted by Robin Houston, while its spinoff 100% Gold was hosted by Melinda Walker. In addition, this version was often billed as "The game show without a host".
Based on the British franchise of the same name by Tom Atkinson, which awarded £100 to the winner.

YouTube Links
Edit
The 1998 pitchfilm (while the pilot circulates with this attached, the pilot is not known to be online)
Ad blocker interference detected!
Wikia is a free-to-use site that makes money from advertising. We have a modified experience for viewers using ad blockers

Wikia is not accessible if you've made further modifications. Remove the custom ad blocker rule(s) and the page will load as expected.